Berry Celtic Festival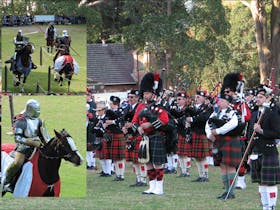 The Berry Celtic Festival this year highlights the Celtic nation of Ireland and introduces a number of additional features to the Program. Along with a day full of entertainment including the spectacular jousting medieval knights, there are various workshops for Irish dancing, traditional tunes for kids, Gaelic singing, instrumental sessions along with country dance. Following the Festival, you can dance the night away at the Berry Celtic Ball. Jousting has been one of the real hits and is full of excitement. Heavily armoured noble knights gallop at each other on horseback with a clashing of lances. You can hear the thunder of hooves. Whilst other knights resplendent in shining armour are staging battles in hand to hand combat . The Festival kicks off with the grand street parade through Berry at 9.30am, with pipe bands marching in all of their distinctive kilts, together with representatives of the Clans, medieval knights, and Scottish Terrier dogs. Come see the marching of the massed bands, musical items, Celtic fiddlers, highland dancing, enchanted singing, and of course, the battle of the medieval knights.
When: 25/05/2019 - 25/05/2019
Location: Alexandra Street, Berry, Jervis Bay & Shoalhaven, New South Wales, Australia
Email: berryrotary@gmail.com
Phone: (02) 4403 0300
Website: www.berryrotary.org.au
contact
berrygetaways.com.au is owned and operated by BERRY ESTATES PTY LTD trading as ELDERS REAL ESTATE BERRY
NEWSLETTER
If you would like to be kept aware about promotions & specials, subscribe to our newsletter. We won't spam you.